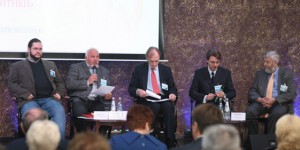 Following the event the Protocol on Collaborations was signed between the Ulyanovsk Oblast Ministry, World Congress of Families and FamilyPolicy.ru. Ulyanovsk International Demographic Summit: Enhancing the Regional Dimension of the Family Policy was held September 12th in Russia as a  World Congress of Families Regional Event.
The Demographic Summit, in the Russian city of Ulyanovsk, was an important international, inter-religious conference with the participation of leading social scientists, public figures and businessmen from around the world as well as the best Russian demographers and sociologists.
The Governor of Ulyanovsk region, Sergey Morozov, is one of the most active supporters of family-friendly policies in Russia, and has introduced many effective demographic measures that have boosted birth rates in the region. Mr. Morozov has initiated the Ulyanovsk International Demographic Summit in order to share the best practices in the field of the family and demographic policies and to encourage an exchange of ideas between leading international and Russian experts in the field.
The Summit covered  a wide range of issues relating to the demography and family policy, including an in-depth analysis of the worldwide demographic crisis and successful family policies. Organizers hope the Ulyanovsk region will become the pilot for the effective implementation of family policy (this experience could then be used in other regions of Russia, as well as on the federal level), and the first Russian region to be rated as "family-friendly" (FamilyPolicy.ru think tank will do ratings of the family-friendly businesses, universities and regions).
Ulyanovsk is also the first regional government in Russia tohost a demographic summit.
Speakers at the Summit included Governor Morozov, WorldCongress of Families Communications Director Don Feder, Alexey Komov (WCFRepresentative in Russia and the CIS and FamilyPolicy.ru President), John Mueller (of the Ethicsand Public Policy Center, a WCF Partner), and Pavel Parfentiev (Family Policy Advocacy Group and "For Family Rights" NGO).
After the Summit FamilyPolicy.ru, World Congress of Families  and the Ministry of Labor and Social Development of the Russian Region of Ulyanovsk signed an important  "Protocol of Intent," pledging to work together to support the natural family, support children and provide solutions to Russia's well-below replacement fertility rate.
The Ulyanovsk region has a population of 1,382,000 with its capital situated 555 miles east of Moscow, along the Volga River. Under the pioneering leadership of Governor Sergey Morozov, the regional government has undertaken important steps to strengthen the family and improve the demographic situation. Between 2005 and 2011, the number of births in the region increased by 19.5%, marriages by 24% and abortions declined by 40.5%.
Among other programs to raise the region's birth rate, Governor Morozov has increased financial support for families with children, assigned land for housing construction to large families and introduced a regional standard of financial support for pregnant women.